SEO Tools are the backbone of any SEO guy. If you are an SEO pro, SEO beginner or you are just started learning SEO, SEO tools are the must-have for doing good in SEO. From keyword research to content ideas, tracking your website and posts you definitely need an SEO tool.

What Is An SEO Tool?
SEO tools are applications or websites where you can do all your keywords research, content research and also you can keep a track of all the metrics like DA/DS/DR, PA, the overall traffic and many more.
There are many paid or premium tools that are beneficial in your digital marketing career. But there are also many free tools which you can use and get the most out of it. Most of the free and awesome tools which will help you more are from Google itself. Here we will discuss only free tools, not any paid tools. So, let's get started.
Google Analytics:-

Google Analytics is a free tool from Google where you can track your traffic to your system. You have to first verify your website by adding the code in your website HTML file. Then you are all set to go. You can track your real-time visitors, total visitors, bounce rate, sessions, pages/session, and many more things.
You can also keep track about which posts of your websites are driving more traffic, accordingly, you can optimize your website. You can also track all the different types of traffic like an organic, social, direct, referral.

Google Search Console:-

Google Search Console is one of the best free tools to optimize your website for better performance. You can verify your website by adding a text file to your DNS server or there are so many options to verify your website in Google search console.
Using this tool you can check the performance of your website in search engines. You can check here which all keywords are getting all the page views, which are the posts that get more page views. You can check how many impressions you are getting and how many clicks you are getting. If there is any post for which you are getting lots of impressions but getting very fewer clicks then you can optimize accordingly.
You can check here how many pages are crawled, how many indexed, how many pages have issued all the things. So that you can make the required changes. If you have written many posts but because of some mistakes your posts are not indexed in Google, then those are of no use. You should check your search console during some intervals of time and should make all the required changes.

Page Speed Insights:-

Website loading speed is one of the biggest ranking factors according to Google. If your website takes more time to load then it will send a bad signal to Google, then Google will eventually down the website. According to a survey if your website loading speed will increase by 1 second then you will lose 10% of your income. If your website loads first then everyone will love to stay on your website but if the loading speed is bad then most will bounce back from your website. Which will increase your bounce rate?
You have to check which files are taking more time to load like your images, CSS files, and then you should optimize accordingly.
GTmetrix:-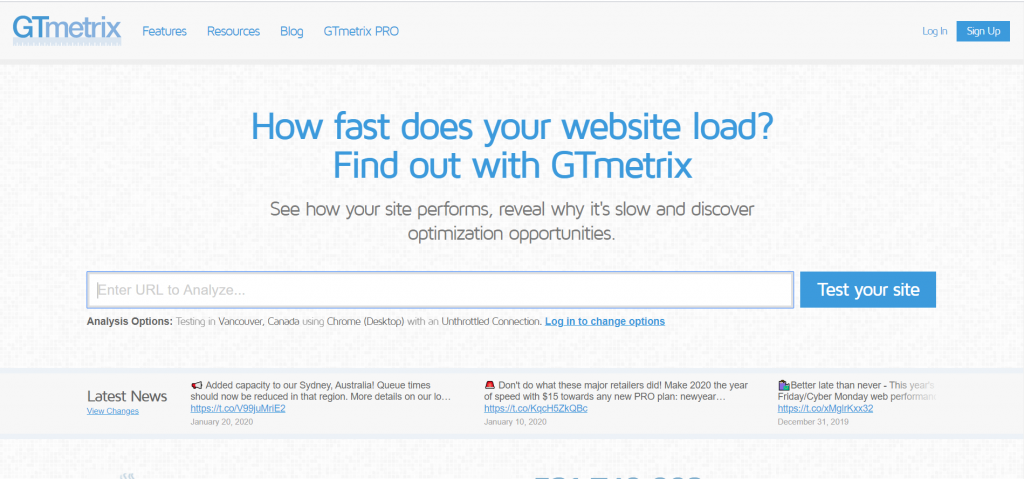 GTmetrix is another popular website speed checking tool. Here you can check the loading speed of your website, website size. You can check all the factors which are affecting your website loading speed. All the factors including image optimization, HTML, CSS, JavaScript minification and caching issues.

Structured Data Testing Tool:-
As you may know, if you have structured data implemented on your website then there is the chance of coming in the rich snippet of the SERP page. So, to properly implement you should have checked your website if it is using structured data or not if you are using then what are all the things which you can improve. To check if structured data is implemented or not you can use the Structured Data Testing Tool for free, and you can make the required changes there only.

Mobile-Friendly Test:-
After the Mobile-First update of Google, it is giving more and more priority to the mobile-friendliness of any website. As more and more people are using mobile phones to surf the internet and search for anything. It's better if your website is mobile-friendly. Before the update, Google used to check the design only on desktop and then it used to rank your content. But now Google first checks the design in mobile and if it is all ok for mobile then Google ranks the content on top.
So, for this reason, it is better if you use a mobile-friendly theme and use AMP for the mobile version. To check if your website is mobile-friendly or not you can use Google's free Mobile-Friendly Test tool. It will tell you about all the things about your mobile design.

Small SEO Tool:-
According to me, the Small SEO Tool is one of the best free tools available there in the market for beginners. Using this free tool you can do many things like keyword research, BackLink check, website SEO checkup, website tracking, domain related things, meta tag tool, plagiarism checker, and much more.
While writing any content you can use the tool to research keywords, you can also check plagiarism here, you can also count the number of words you have written here. It is very helpful in content rewriting also.

Google My Business:-
For any local business, it is the #1 must-have a tool. You have to verify and claim your business here. When you add your business here it will send a code to your given address and by entering that code you have to verify your website/business. Here you can add your business pics, opening time, special offers and also you can respond to your reviews.

Ubersuggest:-
Ubersuggest is one of the widely used SEO tools among beginners. This tool is by Neil Patel. This tool is very helpful for keyword ideas, content ideas, site audits, backlink checks. Using this tool you can also do proper competitor analysis. 
The only issue now this tool is not completely free. After 15th February 2020, it became paid.

Conclusion:-
Here is a list of free SEO tools, which will definitely help you with your growth in a digital marketing career. Please feel free to leave us with your valuable feedback. Tell me about your best pick, which tool you rely on the most.

Thank You…